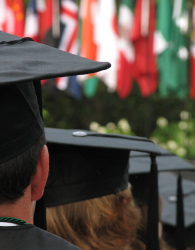 Applying to college has become an increasingly demanding task. Since you're probably planning to apply online, why not also use Internet resources to familiarize yourself with the application process before you start? Use the Applying to College Web Guide to figure out where to apply and how to make your college application as strong as it can be.
The college application process is a multi-step affair with many deadlines and due dates depending on the school you apply to and the type of application you submit.
Insights for the College Application
Applying to more than one college? Some schools now accept a common application so that you don't have to fill out your basic information over and over. See the Common Application Web site to find out which schools accept the application.
Part of a successful application is applying to the right combination of schools: some reaches, some maybes and some safety schools. Before you start writing essays and getting recommendations, visit College Data, which helps you determine your chances of being admitted to a college.
One way to prepare for the SAT is to take the Preliminary SAT/National Merit Scholarship Qualifying Test (PSAT/NMSQT) administered by the College Board. To learn more about what's on the test and how to register, visit the College Board's PSAT/NMSQT page.
Top Sites for the College Application
For an overview of the college application process …
The College Board can help prospective college students get started. Find a list of steps that keep you on the right track for college admission throughout each semester of your high school career.
CollegeView leads you step-by-step through the college admissions process. Find basic information about applications and standardized tests, and suggestions on what to ask when taking a tour of a potential college.
Family Education has a series of articles that can help you avoid application mistakes, figure out if early decision is right for you and get advice about asking for letters of recommendation.
For the SAT and ACT …
The College Board administers the SAT. Look for dates and locations, and register for the test. If you're a student with a disability, take a look at the "Students with Disabilities" page to see what accommodations may be available to you when taking the SAT.
The ACT lets you register for the test online. Try some of the practice tests before the big day to see explanations of answers before you take the real thing. Also find resources for students with disabilities that are taking the ACT.
Choosing what college or university you attend may be one of the most important decisions you'll make. The college search advicein this section offers search tools, rankings and reviews to help you narrow the options and determine what fits you best.
Insights for College Search Advice
College and university rankings can be useful for exposing certain attributes of schools, but rankings are dependent on endowment funds, alumni giving and other nonacademic factors. Don't use rankings as the most important way to judge a school; you might miss out on some great institutions.
Some college admissions offices are now enlisting students to write honest (and sometimes uncensored) blogs about student life. MIT, Cornell and Johns Hopkins are just a few examples of universities using this practice. Check to see if the schools you're interested in offer similar resources.
Some basic terms that you'll come across in this guide and in your research include:
Safety School: a school that will likely accept you.
Reach School: a school that will be difficult for you to get into.
Early Action: a nonbinding application that puts you in the first round of applicants.
Early Decision: a binding application that puts you in the first round of applicants. If you are accepted ED, you are required to attend the school that accepted you. Generally, you can apply to only one school Early Decision.
Top Sites for College Search Advice