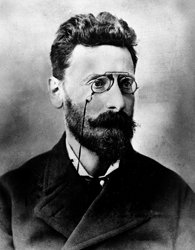 Hungarian immigrant Joseph Pulitzer was a lawyer, politician, journalist and publisher of the nation's most widely circulated newspaper. He is remembered best as the founder of the most significant American prize for excellence in writing and reporting.
Joseph Pulitzer's Early Days
Born in 1847, in Makó, Hungary, Joseph Pulitzer was the son of a successful grain dealer. In 1864, the 17-year-old emigrated to the United States and was sent to fight for the Union in the Civil War. At the end of the war, he moved west, eventually settling in St. Louis.
In St. Louis, Pulitzer worked various jobs, including waiting tables, until he landed a position as a reporter for a German-language newspaper. During this time he began to cultivate an interest in politics and law. He studied and practiced in the field, and was elected to the Missouri Legislature in 1869.
In 1871, he attained partial ownership of the newspaper he had worked on. Three years later, Pulitzer was accepted into the bar in Washington, D.C., and began working as a writer for the New York Sun. In 1878, he became owner of the St. Louis Post-Dispatch, officially launching his publishing career.
Sources in this Story
Pulitzer's Notable Accomplishments
In 1883, Pulitzer bought the magazine The New York World, according to the Pulitzer Web site. The purchase turned out to be the right one, as "sensationalized features" on "public and private corruption" caused the magazine's audience to steadily grow. Within a decade from his purchase, circulation for the paper climbed to 600,000 copies, making it the largest in the country, and making Pulitzer even wealthier than he had been.
Elected to Congress in 1885, Pulitzer resigned a few months after taking office. Two years later, he founded the Evening World; however, by this period in his life, Pulitzer was trying to limit his managing of publications. That same year, the 40-year-old publisher lost his sight, but continued to oversee his companies for two more years.
In the 1890s, Pulitzer was involved in a feud with a main competitor: William Randolph Hearst. The companies were locked in battle to see who could attract the larger audience. This competition would last well into the 19th century.
The Man and His Work
The Rest of the Story
Pulitzer died from heart disease on October 29, 1911. In his will, the publisher left money for the establishment of the Columbia School of Journalism, according to a 1911 New York Times article, which was written after his death. Funding was also left for creation of the annual Pulitzer Prize, celebrating excellence in literature, journalism, music and drama.
Although the criteria for the awards have changed since their conception, the Pulitzer Prize continues to be one of the most sought after recognitions in the literary world.