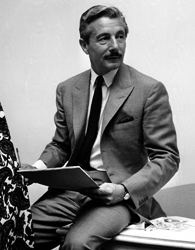 The elegant designs worn by Jackie Kennedy and Grace Kelly came to embody American fashion during the 1950s and 1960s. The man responsible for many of their outfits was Oleg Cassini. From the 1930s until his death in 2006, Cassini created enduring, iconic looks.
Oleg Cassini's Early Days
Oleg Loiewski Cassini was born in Paris, France, in 1913. His family, living in Copenhagen, Denmark at the time, was one of "impoverished nobility," according to Cassini's obituary in The New York Times. His father, Alexander, was a Russian diplomat and his mother, Marguerite, was an Italian countess. Cassini spent his childhood moving between Europe and Russia with his family until they finally settled in Florence, Italy, following the Russian Revolution.
There, a young Cassini made his entrance into the fashion world by aiding his mother, who designed hats for Florence's Countess Fabricotti. Mrs. Cassini "developed a formula for success in the fashion business," writes The Times. She would travel to Paris twice a year and bring back sketches to Italy, where the designs would be created much more cheaply, the Times adds. At this time, her son became passionate about sketching.
Sources in this Story
Cassini's Notable Accomplishments
Cassini himself began traveling to Paris to sketch. During the 1920s, he studied art at the Academia Belle Arte in Florence with the painter Giorgio de Chirico. In 1934, he won five first prizes at a fashion competition in Turin, Italy.
In 1936, Cassini moved to the United States with his brother, Igor, first to New York City, then to Hollywood, and took a job designing wardrobes for Paramount Pictures. In the 1940s, Cassini designed for 20th Century Fox, dressing such fashion icons as Marilyn Monroe and Grace Kelly, to whom he was briefly engaged.
But it was in 1960 that Cassini began the most well-known chapter of his career: He became the official wardrobe designer for First Lady Jaqueline Kennedy, creating dresses and other outfits that helped make Kennedy "a fashion icon," writes the Encyclopedia Britannica.
Together Cassini and Kennedy "created a uniquely American high fashion at a time when style was dictated by the fashion houses of Europe," recalls Bob Jamieson for ABC News. "It built on simple things, like A-line dresses, the black sheath, the pillbox hat—all steeped in American fashion tradition. But there was elegance, especially in the gowns Jacqueline Kennedy wore to White House dinners and on state visits."
Many of these designs were exhibited in the Metropolitan Museum of Art's "Jacqueline Kennedy: The White House Years," curated by Vogue editor Hamish Bowles.
The Man and His Work
The Rest of the Story
Cassini loved women, and his designs aimed to accentuate what was innately feminine in women's bodies. He wrote on this topic in his 1987 autobiography, "In My Own Fashion." As fellow designer Diane von Furstenberg told The New York Times, "He was a true playboy, in the Hollywood sense. Well into his 90's, he was a flirt."
Cassini was married three times, notably to the actress Gene Tierney. Tierney, along with Grace Kelly, would serve as a muse to Cassini, as well as a connection to the Hollywood A-list. For a time he was known as Mr. Gene Tierney, the Times adds. Cassini even had a cameo in a film, "Where the Sidewalk Ends," with Tierney.
Although Cassini would continue to design into his ninth decade, the work he produced during his time with Kennedy arguably overshadowed the rest of his career. The designer focused his final creations on a successful bridal line. He also launched a line of sports clothing in 2001.
Cassini passed away at the age of 92 on March 17, 2006, on Long Island, New York. He was survived by his third wife, Marianne.