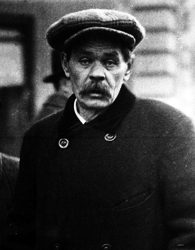 Political activist, author and playwright Maxim Gorky gave a voice to the unheard majority of Russia before, during and after the Russian Revolution. From the late 1890s until his death in 1936, his writings and plays represented the lower classes of society and intensified the push for political and social change.
Maxim Gorky's Early Days
Maxim Gorky was born Aleksei Maximovich Peshkov on March 28, 1868, in Nizhny Novgorod, Russia. Abandoned at the age of five by his parents, Gorky spent his childhood with his grandmother, according to The New York Times. He ran away from home when he was a teenager, traveling across the country and working different jobs to stay afloat. His experiences during this period led him to change his name to Maxim Gorky, which means "the bitter one."
His travels were also an opportunity for him to interact with people from all walks of life. These interactions left a lasting impression that would echo throughout Gorky's writing.
Sources in this Story
Gorky's Notable Accomplishments
Using his new pseudonym, Gorky began working as a reporter for a small newspaper. Through his job, the 24-year-old first began to express the disillusionment he had developed while on his journey through Russia.
"He appeared out of the blue…'an emissary from the anonymous Russian masses,'" wrote Harvard Magazine in 2008, quoting a contemporary critic of Gorky. "Rejecting with contempt Russian literature's traditional sympathy for 'the insulted and injured' along with its glorification of the peasant as a repository of wisdom and national values, he celebrated instead action, will, initiative, creativity."
Known primarily as a novelist, Gorky also wrote 15 plays, many dealing with the social and political unrest of his country. "The Lower Depths," for example, is the story of social outcasts living in a boarding house.
Gorky's dissatisfaction with the status quo led him to become part of the revolutionary movement; he devoted himself to raising money for the Bolshevik cause. Due to his activism, he was arrested many times, and spent 1906 to 1913 as a political exile on the island of Capri, Italy.
The Man and His Work
The Rest of the Story
Disappointed with Lenin's repressive tactics after the Bolshevik Revolution and ill with tuberculosis, Gorky returned to Italy in 1922. Read Gorky's thoughts about Lenin in an essay written after Lenin's death on the Lenin Mausoleum web site.
He returned to Soviet Russia in the early 1930s, much to the joy of the new Soviet leader, Joseph Stalin. He was "hailed as 'the great proletarian writer,' herald of the revolution, founding father of Soviet literature and inventor of 'socialist realism,' for whom his native city and Moscow's main thoroughfare, along with hundreds of institutes and enterprises, were renamed," writes Harvard Magazine, "and finally the preacher of merciless class hatred, smothered with state honors but increasingly isolated, in effect the prisoner of Stalin."
Gorky died in 1936 at the age of 68. Some alleged that he was poisoned on orders from Stalin. He is buried in the Kremlin Wall in Moscow.
By the end of his life, Gorky "had become one of the most popular figures in the U.S.S.R….as he gradually passed from a sympathizer to one of the warmest supporters of the Soviet regime," according to his obituary in The New York Times.