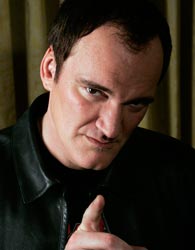 A self-taught filmmaker who has nevertheless displayed a profound knowledge of film history, Quentin Tarantino has built an oeuvre upon sharp dialogue, gritty violence and layer upon layer of pop culture allusions.
Quentin Tarantino's Early Days
Quentin Tarantino was born in Knoxville, Tennessee on March 27, 1963. Tarantino spent most of his formative years in Torrance, California.
He was exposed to a variety of film genres and styles from an early age. "I saw all kinds of stuff. Not just 'Herbie Goes to Monte Carlo,'" he told Charlie Rose in 1994. "My mom took me to see 'Carnal Knowledge' and 'The Wild Bunch' and all these kinds of movies when I was a kid."
Tarantino dropped out of high school with the intention of making his way to the film industry. He held several temporary jobs before landing a clerk position at Manhattan Beach's Video Archives.
Working at the video store afforded him countless opportunities to schmooze with the movers and shakers of Sunset Boulevard. The connections he gained there eventually led producer Lawrence Bender to sign on to filming Tarantino's screenplay "Reservoir Dogs," the saga of a burglary gone terribly wrong. With the star support of actor Harvey Keitel and $1.5 million from Bender's production company, the film was Tarantino's directorial debut.
The film premiered at the 1992 Sundance Film Festival to generally favorable reviews—despite some flak for the intensity of its violence—and Quentin Tarantino became an industry-known name.
Sources in this Story
Tarantino's Notable Accomplishments
Many of those whom Tarantino failed to win over with "Reservoir Dogs" changed their tune when "Pulp Fiction" was released in 1994.
"[The film is] a triumphant, cleverly disorienting journey," wrote Janet Maslin for the New York Times, "through a demimonde that springs entirely from Mr. Tarantino's ripe imagination, a landscape of danger, shock, hilarity, and vibrant local color."
With an ensemble that included Bruce Willis, Samuel L. Jackson, Uma Thurman and the career-revived John Travolta – this nouveau noir follows the adventures of two hit men, an aging boxer, a gangster and his girlfriend, and a glowing briefcase that renders its opener transfixed. Tarantino received the Palme d'Or for his efforts, the highest honor at the Cannes film festival, in addition to the Oscar for Best Original Screenplay.
Following a few years of producing and some acting roles, Tarantino made his highly anticipated return with "Jackie Brown" (1997), based on the Elmore Leonard novel "Rum Punch." While the film was not nearly as successful as "Pulp Fiction," it was noted for its impressive script and deft casting. In a well-received blast from the past, Tarantino resuscitated the career of Pam Grier, who had starred in 70s blaxploitation films such as "Foxy Brown."
In typical Tarantino style, "Kill Bill: Vol. 1" (2003) and "Kill Bill: Vol. 2" (2004) were rich in allusion to genre film. "Tarantino layers slices from every chopsocky spaghetti western yakuza blaxploitation flick he's ever seen on the already borrowed premise of Francois Truffaut's The Bride Wore Black," wrote J. Hoberman in the Village Voice.
In an interview with Entertainment Weekly after the release of "Kill Bill," Tarantino described his star status as a filmmaker: "I can make a movie when I mean it. I have a really fortunate position in this industry…I am able to truly, in this town, live the life of an artist."
The Man and His Work
The Rest of the Story
Tarantino collaborated with friend and fellow director Robert Rodriguez on the double feature "Grindhouse" in 2007, a twisted paean to everything gratuitous in cinema: the outlandish, the sex-fueled and the slashers.
His summer 2009 film, "Inglourious Basterds," was set during World War II, but possessed all the qualities of a spaghetti Western. Starring Brad Pitt as Lieutenant Aldo Raine, a cross between G.I. Joe and Tyler Durden, the movie concerned a band of Jewish-American soldiers tasked with creating fear by brutally killing Nazis occupying France.
His next films concerned a former slave exacting revenge in "Django Unchained," and the western "Hateful Eight," which was shot with antique lenses.
In 2016, he announced that he planned to make two more films before retiring.
This article was originally written by Devin Felter; it was updated February 21, 2017.