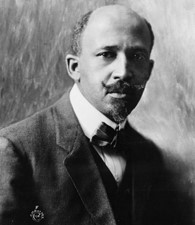 A tireless activist and scholar, W.E.B. Du Bois wrote "The Souls of Black Folk" and was a founding member of the National Association for the Advancement of Colored People (NAACP). He remained committed to fighting racism and social injustice for his entire life.
Early Days
William Edward Burghadt Du Bois was born on February 23, 1868 in Great Barrington, Massachusetts. At the age of 15, Du Bois wrote editorials for a local newspaper about the need for African-Americans to become politicized. He attended Fisk College in Nashville, Tennessee, and later Harvard, where he received his master's degree in 1891. He read in the newspaper that former president Rutherford B. Hayes, who headed a fund to provide more educational opportunities for African-Americans, was quoted as saying that he was having trouble finding a candidate qualified enough to study abroad. Du Bois, deeply angered, applied and received a grant to study at the University of Berlin in Germany. Before he could finish his dissertation there, he lost his funding and had to finish earning his doctorate in history at Harvard.
In 1896, he married Nina Gomer, with whom he had two children. The same year, he became an assistant instructor in sociology at the University of Pennsylvania, where his study of an urban community, "The Philadelphia Negro: A Social Study" (1899), brought him early prominence as a leading American scholar.
The Man and His Work
Notable Accomplishments
Du Bois dedicated his life to seeking equal treatment for African-Americans and to refuting the notion that black people were inferior. He ultimately helped to reshape race relations in the United States.
Du Bois was integral in creating several early protest groups. His direct challenges of the legal, political and economic systems that exploited poor people and African-Americans often brought him into opposition with others, including Booker T. Washington. In 1905, he founded the Niagara movement, an activist group of scholars and professionals. He became a founder of the National Association for the Advancement of Colored People (NAACP) in 1909, but he resigned from its board in 1934 because of his interest in African-American nationalism, a strategy that opposed integration and espoused creating black-controlled institutions. He was also interested in pan-Africanism and the plight of people of African descent worldwide. In 1900, he attended the First Pan-African Conference in London, and later organized a series of congresses that gathered intellectuals from Africa, the West Indies and the United States to oppose colonialism and racial oppression. A leftist, he joined the Socialist party in 1910; later, he ran for U.S. Senate on the American Labor party ticket and became a member of the Communist Party in 1961.
A published poet, playwright, novelist, essayist, sociologist, historian and journalist, Du Bois was the most prominent African-American intellectual of his day. He wrote 21 books and published more than 100 essays and articles. One of his best-known works is The Souls of Black Folk: Essays and Sketches published in 1903. He edited or co-edited several academic publications. His most important historical work was "Black Reconstruction in America, 1860–1880," published in 1935.
Sources in this Story
The Rest of the Story
Du Bois became a citizen of Ghana in 1961, where he worked on the Encyclopedia Africana under the direction of President Kwame Nkrumah. In 1963 he gave his last public statement: "One thing alone I charge you. As you live, believe in Life! Always human beings will live and progress to greater, broader and fuller life. The only possible death is to lose belief in this truth simply because the great end comes slowly, because time is long." He died on August 27, 1963, at the age of 93.
Scholars remember Du Bois for his groundbreaking contributions to American history and his uncompromising activism. The 1995 documentary "W.E.B. Du Bois: A Biography in Four Voices" honors his work; the film includes the narration and analysis of prominent African-American writers Wesley Brown, Thulani Davis, Toni Cade Bambara and Amiri Baraka.
In February 2009, a new edition of Du Bois' 1924 book "The Gift of Black Folk: The Negroes in the Making of America" was released to celebrate the 100th anniversary of the NAACP, and to mark Black History Month. The book highlighted what were then little-documented contributions of African-Americans to society.
"Black people were using art and historical narrative as weapons in the civil rights movement, trying to show that black people were innately as intelligent as white people, and the best way to do that…was by holding up the achievements of intelligent or artistic or creative black people," commented Harvard University professor Henry Louis Gates, Jr. in response to the reissue, according to The Spokesman-Review. "And no one did this more brilliantly than the great W.E.B. Du Bois himself."