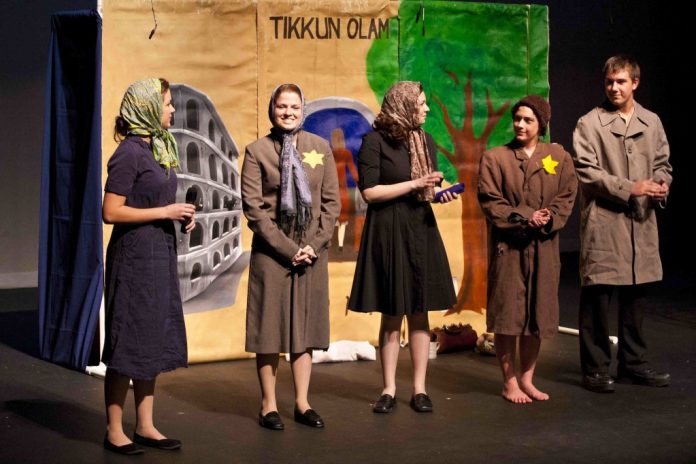 Can students really change the world?
In 1999, in connection with a National History Day project, three Kansas high school students wrote a play that drastically changed how Poland perceives its role in the Holocaust and how it teaches the subject in its schools. Their work also resulted in the creation of a "Center for Unsung Heroes" that has provided educational experiences to 1.2 million students in 30 countries.
The girls' teacher, Mr. Conard, asked them to keep in mind these four goals while working on the project:
Extend the boundaries of the classroom
Contribute to history learning
Teach respect and tolerance
Honor the classroom motto
"He Who Changes One Person, Changes the World Entire.".
Two ninth graders, Megan Stewart, Elizabeth Cambers, and an eleventh grader, Sabrina Coons, were encouraged by their teacher to delve further into a clipping he had from US News & World Report about Irena Sendler, who the clip said had saved the lives of 2,500 Jewish children by smuggling them out of the Warsaw Ghetto before they could captured by the Nazis. The teacher assumed there was a typo in that number, as surely a person who had accomplished such a feat would be celebrated around the world.
The  story is explained in this post: the students' research found that Sendler's heroics were very real. While they had been quietly recognized by two Jewish organizations, her story was little known, even in her native Poland, where the post-war communist government had suppressed the stories of war-time heroes such as Sendler and Witold Pilecki, a spy who actually snuck into Auschwitz.
The three girls and other collaborators wrote a short play, "Life in a Jar," in honor of Sendler's practice of documenting all of the children she had smuggled and burying them in glass jars in a friend's backyard to facilitate post-war reunions with their birth families. They performed the play in many places in Kansas, and, learning that Sendler was alive, began to write her letters, through a Polish translator.
Sendler responded with dozens of letters. A Kansas businessmen saw the play and funded a trip for the students and supporters to go to Poland and meet Sendler. One of the children whose lives had been saved by Sendler deemed these students "rescuers of Irena's story."
Did this one little play, written by high school students in Kansas, really change the world?
This post about the project on Chabad.org captures many of the student's achievements:
Holocaust education in Poland has changed dramatically; other Polish rescuers came forward with their stories.
In Sendler's own words to the students, "Before the day you had written Life in a Jar, the world did not know our story; your performance and work is continuing the effort I started over fifty years ago. You are my dearly beloved ones."
More than 1.2 million students have done lesson plans offered by the Unsung Heroes Project, created by the businessman who funded the trip to Poland.
At least 20 colleges in the U.S. and many more in Poland are using Sendler's letters in their curriculum.
Irena was given numerous awards—including the Order of the White Eagle, Poland's highest honor, and was nominated for the Nobel Peace Prize in 2007. In April 2009, the Audrey Hepburn Foundation posthumously awarded Irena Sendler its 2009 Humanitarian Award.
In 2009, CBS aired a Hallmark Hall of Fame movie titled, "Courageous Heart" about Sendler's work.
In Sendler's final words to the students before her death, she wrote, "You have changed Poland, you have changed the United States, you have changed the world. I love you very, very much."
Yes, students really can change the world.