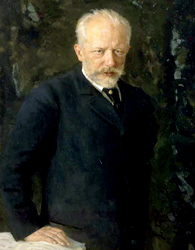 Pyotr Ilych Tchaikovsky has given the world many classical music compositions, including the famous holiday staple "The Nutcracker," and other memorable pieces like "1812 Overture" and the score for the ballet "Swan Lake."
Pyotr Ilyich Tchaikovsky's Early Days
Pyotr (Peter) Ilyich Tchaikovsky was born on May 7, 1840, in Kamsko-Votkinsk, Russia. He began his musical training with piano lessons at the age of 7. In 1850, Tchaikovsky entered the School of Jurisprudence at St. Petersburg, and became a clerk in the Ministry of Justice in 1859. Interestingly, one of Tchaikovsky's piano teachers had discouraged him from pursuing a music career.
In 1862, he enrolled as a student in the Saint Petersburg Conservatory. He ended his position with the ministry, and gave lessons in piano and music theory to get by financially. He spent four years at the conservatory, where he studied everything, including conducting, harmony, orchestration and composition.
Sources in this Story
Tchaikovsky's Notable Accomplishments
From 1866 to 1878, Tchaikovsky taught at the Moscow Conservatory while continuing to compose. By 1877, he had completed his "Third Symphony," "The Seasons" and his first ballet, "Swan Lake."
In an effort to suppress rumors regarding his homosexuality, the composer married conservatory student Antonina Miliukova. Though the composer felt very little for his new wife, Antonina was infatuated with Tchaikovsky, and had even threatened suicide if he refused her hand in marriage.
Less than three months after marrying, Tchaikovsky left his wife to travel, citing a nervous breakdown as his reason. During the next several years, Tchaikovsky toured Europe and composed such masterpieces as the "1812 Overture."
In addition to composing the music for "Swan Lake," Tchaikovsky also scored the ballets "Sleeping Beauty" and the Christmas favorite "The Nutcracker." A 1990 article from the magazine Sovietsky Ballet states, "Given Tchaikovsky's unusual thinking which created dancing poetry, his tendency to portray action in musical-scenic works, a desire to embody real and eternal feelings in the world of art this could not but find an outlet in the genre of ballet music."
Learn about the composition and meaning of Tchaikovsky's "1812 Overture."
The Man and His Work
The Rest of the Story
In 1891 Tchaikovsky began a tour of America, and was the guest conductor for the opening night of Carnegie Hall. In 1991, the music hall marked the 100th anniversary of their first show by opening a small museum whose first exhibit was "Tchaikovsky at Carnegie Hall: Centennial of an American Journey."
In October 1893, Tchaikovsky conducted his last performance, the premiere of his "Sixth Symphony." Nine days later, on November 6, he died of what was said to be cholera.