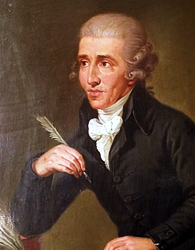 Known as "the Father of the Symphony," Joseph Haydn's contribution to the world of music can be heard in every arrangement of melody, rhythm and harmony heard today. This 18th-century Austrian composer's spent more than five decades creating music that would come to define the classical era.
Early Days
Born on March 31, 1732 in Rohrau, Austria, Franz Joseph Haydn's father was a wheelwright, his mother a former cook. The second child of his parents, Haydn began to display musical talent early on in life, wanting to give him the training he needed, his parents agreed to let their cousin, a principal and choirmaster in Hainburg, take Haydn to the school at age six.
At age 8, Haydn started singing at St. Stephen's Cathedral in Vienna, but when his voice changed nine years later, he was expelled from the school. Haydn began doing odd jobs to make money, and taught himself music theory, eventually he worked his way up to becoming the musical director for count Ferdinand Maximilian von Morzin. It was in this position that he composed his first symphony.
In 1760 he married Maria Anna Aloisia Appolonia Keller, they never had children. A year later, Haydn became assistant music director for the Esterhazy family, where he was nicknamed "Papa" by many of the musicians. He later became musical director.
Sources in This Story
Notable Accomplishments
In Haydn's years of service to the Esterhazy family, he was charged with creating music for church and music for entertainment. He stayed musical director for the family after the death of the Prince Paul Anton Esterhazy and the succession of his brother Nikolaus, who encouraged Haydn's music, expanded the orchestra of the court, and built a new estate, Esterhaza, for musical performances.
During his 30 years of service for Nikolaus, Haydn would visit Vienna. It was in Vienna that Haydn met a young composer, Wolfgang Amadeus Mozart, and the two became friends. It is thought that the two composers have greatly impacted each others works.
Haydn's lifetime of works included orchestras written to be performed at the Esterhazy family estate Esterhaza, Masses written while serving as the Esterhazy's music director, symphonies written for small orchestras and those written for performance in London, chamber music for his many employers, songs, and concertos.
Haydn's greatest work is "The Creation," the piece took him two years to finish and was first performed in 1799, when Haydn was 66 years old. This symphony tells the story of creation, works its way through the assembly of the universe, the stars, the planets, animals, and Adam and Eve.
The Rest of the Story
Haydn's service to the Esterhazy family largely ended in the 1790s after the death of Nikolaus, but he continued to serve as the conductor. At that point he was already quite an accomplished composer. He soon moved to suburbian Vienna and began working on his own compositions (which would later include "The Creation").
In 1791 he was awarded an honorary doctorate of music from Oxford University. In 1803 he received the great gold Salvator Medal from the City of Vienna.
His last composition is considered to be the String Quartet op. 103 in 1803, his last public appearance was at a performance of "The Creation" in 1808, Haydn died of exhaustion on May 31, 1809.
May 31, 2009 marked the 200th anniversary of Haydn's death, and the beginning of a yearlong celebration of the composer's contribution to classical music