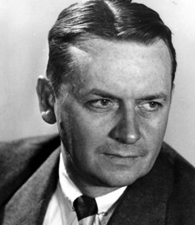 Eliot Ness had a distinguished career in law enforcement. He and his team of "Untouchables" fought against Al Capone and illegal bootlegging in Chicago during Prohibition, and he later went on to clean up Cleveland's corrupt police department. Ness has survived in popular culture as the subject of movies and television shows about the Untouchables.
Eliot Ness' Early Days
Eliot Ness was born in Chicago on April 19, 1903. His parents were Norwegian immigrants who ran a small bakery in Chicago. The Noir Factory Podcast describes him as "a bookish young man and a good student, with a reputation for a neat appearance as well as being a loner." He also was interested in reading Sherlock Holmes stories as a child.
Ness attended the University of Chicago, where he studied law, political science and commerce. A brother-in-law who worked in the Justice Department influenced him to become an agent.
Sources in this Story
Ness' Notable Accomplishments
Ness became famous during the Prohibition Era, in which the sale of alcohol was forbidden in America. He worked in the U.S. Department of Treasury, which was given most of the responsibility for enforcing Prohibition rules.
After Prohibition started in 1920, Al Capone began to control Chicago's underworld. He used bribery to help keep his bootlegging operations running. Ness was assigned to a Treasury Department unit tasked with bringing Capone down. The goal was to hurt Capone's finances, and the dozen people hand-picked for Ness' group destroyed the mobster's alcohol distilleries.
"Within the first six months of operation, Ness and his crew seized 19 distilleries and six major breweries, denting Capone's wallet by approximately $1,000,000," according to Biography.com.
A Capone representative then offered Ness $2,000 a week to stop the raids. Ness threw the man out, and called a press conference to say that his team couldn't be bribed. Following that 1930 press conference a Chicago reporter dubbed the group "The Untouchables." Ness used the Chicago press to great effect in carrying out operations against Capone.
Capone and Ness' war included attempts on the agent's life and the killing of his close friend. Ness and his Untouchables continued to raid distilleries, and at one point, Ness paraded all of Capone's vehicles seized in raids past the mobster's home. The vehicles were then auctioned off.
Though Ness and the Untouchables damaged Capone's operations, it was other agents in the Treasury Department who wound up getting him in jail. In 1931, Capone was convicted of income tax evasion and sentenced to 11 years in federal prison.
In 1934, as Prohibition was coming to an end, Ness went to Cleveland where he took charge of the Treasury Department's Bureau of Prohibition for Ohio. He and his fellow investigators destroyed illegal stills. Ness, between Chicago and Cleveland, had a stint in Cincinnati, destroying illegal stills in that region.
He was appointed to be Cleveland's public safety director, in charge of the police and fire departments. The police officers there, like those in Chicago, had a reputation for being corrupt.
Ness' efforts to eliminate corruption forced 200 Cleveland officers to resign, and more than a dozen police officials went on trial. He also established a court to handle only traffic matters, and cut the city's vehicle deaths by more than half by 1938, according to Biography.com.
But his success in Cleveland was limited. In 1934, someone started killing and dismembering people in grotesque murders that remain unsolved today. More than 5,000 people were interviewed in what the Cleveland Police Museum calls the city's biggest police investigation.
In August 1938, Ness angered the press when he and 35 police officers converged on a shantytown where many homeless lived. They rounded up the occupants, searched the shantytown for clues, and then burned it, all on Ness' orders. The torso, or Kingsbury Run murders, as they were known, suddenly stopped after the raid, and no one knows why. Ness' critics, though, said that burning the shantytown wouldn't help solve the murders, according to the museum.
The FBI has a large collection of declassified documents relating to Eliot Ness.
The Rest of the Story
After resigning from the city of Cleveland, Ness worked in Washington, D.C., and then joined the safe manufacturer Diebold Inc. Ness unsuccessfully ran for the mayor of Cleveland in 1947, and in the same year left Diebold. Ness died of a heart attack on May 16, 1957.
Ness' work with the Untouchables has lived on in several television shows and films. Two years after his death, ABC created the television show "The Untouchables" with Robert Stack as Ness. Another generation was introduced to Eliot Ness and his team in the 1987 film "The Untouchables" with Kevin Costner starring as Ness. Other series and movies depicting the team have also been produced over the last few decades.