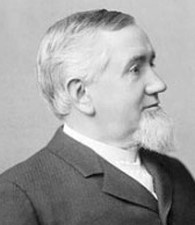 Inventor and industrialist George Pullman literally raised Chicago from the sewer and built luxury railroad cars for the elite. The media praised his "utopian" company town, but in reality, the town's residents lived in misery. His unwillingness to negotiate with strikers drew the ire of workers and railroad owners alike, and he died as one of the most hated anti-union figures in America.
George Pullman's Early Days
George Mortimer Pullman was born on March 3, 1831, in Brocton, New York. After his father died, the 14-year-old Pullman dropped out of school and began working at a general store to support his family.
Pullman's Notable Accomplishments
In 1859, Pullman moved to Chicago, where he had his first opportunity to demonstrate his talent for innovation. Four years earlier, the city had to raise streets to install a new sewage system; as a result, many buildings required stairs to reach the street from the ground floor. Pullman developed a system to raise entire buildings using 10 jacks and hundreds of laborers.
Sources in this Story
He was "hailed as a genius and a hero," writes PBS, and he used the money he earned to invest in building railroad cars. Inspired by an uncomfortable train trip, Pullman partnered with former New York State Senator Benjamin C. Field to build cars with high-class restaurants and elegant sleeping compartments. He also created "accordioned" connectors between cars that significantly reduced wind and noise.
As his railroad car business grew, Pullman established a trading post near the Pike's Peak Gold Rush in Colorado, where miners could eat, sleep or buy supplies. Known as Pullman's Switch, it was very profitable and helped bankroll his railroad business.
In 1863, Pullman built the Springfield and Pioneer cars. Two years later, following the assassination of President Abraham Lincoln, Pullman offered the use of his Pioneer car to Mary Todd Lincoln during her trip to Springfield, Illinois, for her husband's burial. Mrs. Lincoln's trip in the Pioneer made Pullman and his cars nationally known and inspired industrialist Andrew Carnegie to invest in Pullman's business.
Pullman's business expanded greatly over the next several years. He made a fortune leasing—rather than selling—his cars to railroads and receiving a cut of every ticket sold for a Pullman car.
In 1880, he decided to build a town around his plant near Lake Calumet in an area south of Chicago. Pullman controlled every aspect of the town of Pullman, banning alcohol, independent newspapers, town meetings and private organizations. The town church was unoccupied because no denomination could afford the rent.
According to the Pullman State Historical Site, employees would say, "We are born in a Pullman house, fed from the Pullman shops, taught in the Pullman school, catechized in the Pullman Church, and when we die we shall go to the Pullman Hell."
In 1894, as the national economy was in the midst of a depression, Pullman raised the rents in the town without increasing salaries. Forced to feed their families on just a few cents a week, the workers of Pullman accepted the support of Eugene V. Debs' American Railway Union and went on strike on May 12, 1894.
Pullman Books on Amazon.com
Pullman refused to negotiate with the workers, even as railroad unions effectively caused the shutdown of entire railroad lines around Chicago. On July 8, violence erupted between striking workers and federal soldiers who had been sent to protect mail cars.
Though the courts ruled in favor of the railroad owners and the strike was halted, Pullman's reputation was destroyed. A presidential commission condemned him for creating economic hardship for his workers and the Illinois Supreme Court ordered him to sell off his town.
The Rest of the Story
Pullman died of a heart attack October 19, 1897. Fearing that his body might be dug up and desecrated by union members, his family ordered that his body be placed in a lead-lined casket, placed in an eight-foot pit and covered in concrete, asphalt and steel rails.
This article was originally written by Denis Cummings; it was updated January 12, 2017.