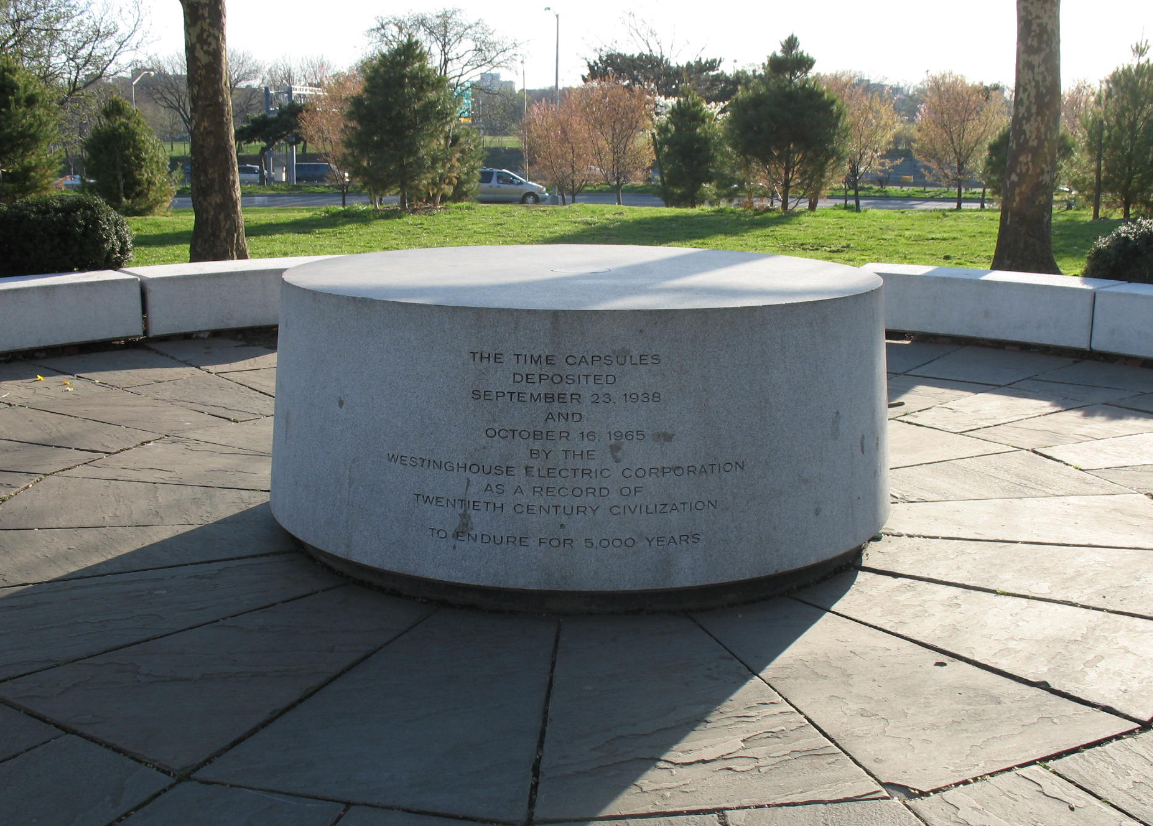 Time capsules allow their creators to freeze moments in time and communicate those moments to future generations. They encourage a dialogue with history, and speak through the artifacts of culture. Take a look at some unique time capsules that await opening, and some that have already been unearthed.
Capturing an Era
Perhaps the largest, most ambitious time capsule project is Oglethorpe University's Crypt of Civilization. The 20' x 10' x 10' stainless steel vault in the basement of Phoebe Hearst Hall was sealed in 1940, and will not be reopened until 8113 A.D. The crypt is the brainchild of Dr. Thornwell Jacobs, then-president of Oglethorpe University, in Atlanta, Ga. Its vast inventory is listed online, and includes more than 640,000 pages of microfilm from nearly 800 written works, a diversity of appliances, household items, garments and accessories, personal hygiene products and more.
A similarly ambitious endeavor is the Westinghouse Time Capsule buried in connection with the New York World's Fair in 1939, and scheduled to be opened 5000 years later, in 6939; a "twin" capsule was buried nearby during the New York World's Fair in 1965. Westinghouse published this book about how the first one was built to last, and how it planned for future generations to learn of its existence and decipher the contents.
In 1991, the International Time Capsule Society, appropriately based at Oglethorpe University, published a list of the "10 Most Wanted Time Capsules." According to the society, many time capsules are never exhumed or are lost to "thievery, secrecy or poor planning." The 10 capsules listed (three of which have since been accounted for) are the most coveted of these lost vessels. A highlight from the list is the Bicentennial Wagon Train Time Capsule, which held the signatures of 22 million Americans, but was stolen from the back of a van at its sealing ceremony on July 4, 1976.
As technology has evolved since the burial of the first time capsule, so has the time-honored tradition of burying a box in the ground. Yahoo's online time capsule embodies this evolution. Over a 30-day stretch in the fall of 2006, Yahoo users submitted photos, writings, videos and audio to Yahoo's "electronic anthropology" project. The Smithsonian now owns the time capsule, to be "reopened" at some later date.
Not all time capsule projects turn out as their creators envision. In 1957, residents of Tulsa, Okla., buried a 1957 Plymouth Belvedere. Shrouded in plastic and encased in a concrete casket, the vehicle was prepared to weather a nuclear attack and emerge pristine and triumphant a half-century later. But when hoisted from its temporary tomb in front of a crowd in 2007, the car emerged a rusted-out bucket of bolts—victim of the earth's moisture.
Matt Novak has written a lengthy series of articles about Time Capsules for Gizmodo.
Sources in this Story:
Unintentional Time Capsules
Occasionally, a dwelling, vehicle or vessel of some sort will be lost or abandoned, and exist undisturbed for many years. The passage of time turns such items into time capsules, and their discoveries can be thought-provoking, exciting or anthropologically significant events.
In 2006, city inspectors found a Cold War "time capsule" in a disused vault beneath the Brooklyn Bridge. At the height of '60s fear and paranoia over a potential nuclear attack, someone converted the vault into a bunker, packing it with medicine, food and water. There were blankets marked, "For Use Only After Enemy Attack," and approximately 352,000 "All Purpose Survival Crackers." To Cold War historian Nicholas Cull, the Brooklyn Bridge bomb shelter "is like a ghost in a Shakespeare play—reminding us of just how bleak things were in the era of Sputnik and the Cuban missile crisis."
In 2009, a sunken Yukon River stern-wheeler—the A.J. Goddard—became a time capsule of life during the Klondike Gold Rush when found at the bottom of Lake Laberge in Canada. The extraordinarily well-preserved boat offered researchers a look into the crew's desperate final minutes, as well as life on the river.
"The Goddard is a very important reminder that ordinary people get caught up in events that are bigger than themselves," underwater archaeologist James P. Delgado said. "It's a rare window into the past where we can truly connect with these five guys, the reality of the gold rush and trying to make a go of it in difficult times."
In the Classroom