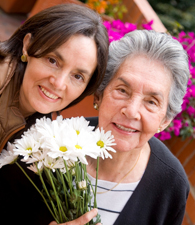 Mother's Day originated in 1907 in the United States when Anna Jarvis created a day to honor mothers. Learn how the day has evolved over the years, how mothers are celebrated around the world and how you can honor your mom this Mother's Day.
The Origins of Mother's Day
After her mother's death in 1905, Anna Jarvis sought to institute a day dedicated to the celebration of mothers across the nation. Her original idea did not conceive of Mother's Day as a holiday but rather as a day to honor mothers in a simple way.
The first Mother's Day ceremony occurred on the second sunday in May, 1907, at Andrews Methodist Church in Grafton, W.Va. It was a simple, heartfelt affair, in which 500 white carnations – sent by Jarvis herself – were handed out to mothers in the congregation to symbolize the purity of the maternal heart. In 1914, President Woodrow Wilson declared Mother's Day a day of national observance.
But the original purity of the holiday did not last long. Mother's Day rapidly became a commercial event, dedicated almost exclusively to retail and marketing. The simple gifts that Jarvis initially recommended were quickly replaced by expensive presents, crowded department store sales, elaborate bouquets and fancy dinners.
Jarvis became upset about the state of Mother's Day as the holiday's popularity grew, and commercialism took over the once "pure" idea. She wanted Mother's Day "to be a day of sentiment, not profit." She eventually urged people to stop buying flowers and gifts for their mothers, and in response to the floral industry's commercial takeover of Mother's Day, had buttons made with the image of a white carnation – honoring the origins of the day – and had them sent free of charge to women's, school and church groups.
Sources in this Story:
Mother's Day Traditions Around the World
Mother's Day arose as an official holiday in the United States, but its cultural origins can be traced back to ancient times. Greeks and Romans held festivals in honor of the "mother goddesses" Rhea and Cybele. But the most obvious precedent for Mother's Day is the early Christian festival known as "Mothering Sunday."
Today, nations that celebrate the holiday do so in a variety of different ways. In Thailand, Mother's Day is celebrated in August on the birthday of the current queen, Sirikit, and in Ethiopia, families gather each fall to sing songs and eat a large feast; the event is called "Antrosh" and is a multi-day celebration honoring motherhood.
Modern Mother's Day Celebrations
Although many American families happily celebrate Mother's Day each may, Anna Jarvis probably wouldn't be pleased with modern day celebrations.
Today, mothers are gifted with jewelry on Mother's Day, given flowers and taken out to expensive brunches, not to mention the bustling card industry. Hallmark Cards reports that about 133 Mother's Day cards are exhanged annually, and the U.S. National Restaurant reports that Mother's Day is the most popular holiday for dining out.
This article was originally written by Anita Gutierrez-Folch; it was updated on June 3, 2017.