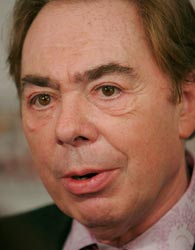 Considered one of the most successful contemporary composers, Andrew Lloyd Webber has consistently created works that garner international appeal and success. He has created scores for "The Phantom of the Opera," "Evita" and other highly successful productions, and earned several awards to commemorate his musical achievements.
Andrew Lloyd Webber's Early Days
Andrew Lloyd Webber was born in London on March 22, 1948. His father William Lloyd Webber was a faculty member at the Royal College of Music, and his mother was a piano teacher—that Andrew showed an affinity for music at a young age is not surprising. As a child, he began composing "musical entertainments" for his family to enjoy. During his music lessons he preferred to play his own pieces to works by other composers.
An aunt introduced Andrew to musical theater. He loved it so much that he started composing music for school plays. By 1964 he entered Oxford University to pursue music further, but by 1965, Lloyd Webber met lyricist Tim Rice and left school to be a composer. He and Rice wrote some pop songs and an unsuccessful musical before finding their first success with "Joseph and the Amazing Technicolor Dreamcoat," written in 1968. The production was well-received in England and the United States. Donny Osmond starred in the musical in 1999.
Sources in this Story
Lloyd Webber's Notable Accomplishments
The growth of Lloyd Webber's popularity has been described as "something of a historical anomaly." After Gilbert and Sullivan and the fall of the Viennese operetta, Americans dominated the musical theater stage. Lloyd Webber's success created some resentment, because to some it felt as though "half the musicals running at any one time" belonged to him.
One quality distinguishing Andrew Lloyd Webber from other artists is that he has created several successful productions using an array of unlikely sources for inspiration. He has relied on cats, a phantom in a Parisian opera house, the Old and New Testaments, a dream about old Hollywood and even South American politics to fuel his creative impulse.
With the exception of a production called "Jeeves," Time magazine said Andrew Lloyd Webber "has scored an unbroken string of triumphs" in his musical theater career. When "The Phantom of the Opera" opened on Broadway in 1988, three of his plays were running at once in New York City and London, marking the second time a composer achieved such a feat. Lloyd Webber was the first person to claim such an accomplishment, doing the same in 1983 as well.
"The Phantom of the Opera" has become the longest-running musical in Broadway history.
Lloyd Webber's awards include three Grammys, a Golden Globe, an Oscar, the Kennedy Center Honor, seven Oliviers and two international Emmys. He was knighted in 1992.
The Man and His Work
The Rest of the Story
Webber has purchased and restored seven London theaters, including the Theatre Royal Drury Lane and the London Palladium. He also founded the Open Churches Trust, an organization that works to restore "formerly locked churches and synagogues" so the public can experience them firsthand.
Today, Lloyd Webber's company, The Really Useful Group, produces his musicals. As of February 2017, Lloyd Webber has four musicals on Broadway at once: "Sunset Boulevard," "School Of Rock," "Phantom Of The Opera" and "Cats." According to NPR, the last to have four musicals on Broadway simultaneously were Rodgers and Hammerstein.
This article was originally written by Lindsey Chapman; it was updated February 16, 2017.