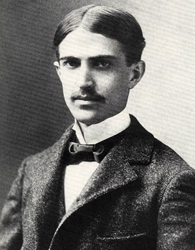 Although he is considered one of the most influential writers of the 20th century, Stephen Crane's life and career were cut short before his 30th birthday. His books, essays and poems—the best known of which was "The Red Badge of Courage"—remain among the most revered and referenced today.
Stephen Crane's Early Days
Stephen Crane was born in Newark, New Jersey, on November 1, 1871. As the 14th—and final—child born to a Methodist minister and the daughter of a preacher, Crane had ample intellectual stimulation in his childhood home. He wasn't quite four years old when he taught himself to read, and according to legend, was writing soon after.
While his mother worked for the Women's Christian Temperance Union, his father busied himself with the church. The family moved around the region quite a bit, living in Paterson New Jersey, Port Jervis, New York.
After his father died in 1880, Crane was sent to live with various brothers; one brother, William, knew a great deal about the Civil War and shared his knowledge with his younger sibling. His mother moved family to Asbury Park, New Jersey, to be closer to one of Crane's older brothers. Crane also voraciously read military magazines and accounts of life during wartime.
After dropping out of four colleges, the 20-year-old Crane decided to work as a journalist in New York.
Sources in this Story
Crane's Notable Accomplishments
Although he found paying work writing for the New York Tribune, Crane focused much of his energy on developing his first novel, "Maggie: A Girl of the Streets." In it, he described life in New York's poverty-stricken Bowery in plain terms. Instead of the lofty literary techniques common to his day, Crane used curse words and the street dialect of the neighborhood. After using much of his own money to publish the book, Crane was depressed when the book flopped.
Although financially unsuccessful, the book did attract the friendship of Hamlin Garland and William Dean Howells, two of the country's leading realist authors. Crane continued to publish essays—including one in which he described life in a flophouse and one describing a millionaire's life in a mansion. His straightforward, poignant descriptions earned him praise, but eventually he fell out of favor, as groups he wrote about began to take issue with his depictions.
According to a biographer, Crane's interest in the military and the realities of war was pervasive, and after writing many poems about war, he wrote his most famous work "The Red Badge of Courage," to answer some of his own questions.
"He was [reading war magazines at a friend's studio]," biographer Linda Davis said in an interview. "[H]e'd fling them down on the floor in hot disgust and say, you know, 'These fellows spout eternally of what they did, but they never say how they feel…And he started getting excited then about writing his own Civil War novel. He wanted to know: What did it feel like to be in a war?"
First published in 1894 in an edited version for syndication in newspapers, "The Red Badge of Courage," brought Crane quick fame. When published in book form in 1895, it was number eight on the international booksellers' list and went through 14 printings in its first six months. Critics praised his vivid descriptions and truthful descriptions of war. It was described by some as the written equivalent of an Impressionist painting.
Crane continued to write, churning out 100 stories and sketches, two volumes of poetry, and six novels in his short career. Based on his own experiences of a shipwreck off the coast of Florida, his 1898 short story, "The Open Boat," has been praised as one of his best pieces of writing. He fascination with war continued throughout his life. Several times, he attempted to land assignments on the front lines of conflicts; he succeeded in reporting from the Greco-Turkish and Spanish-American Wars.
The Man and his Work
The Rest of the Story
With a deep love for what he considered the true side of society, Crane frequently turned up in the company of less noted individuals. When he was 24, Crane witnessed what he felt was the false arrest of a woman charged with solicitation. He defended her at the police station and later in court. At the time, he was friendly with future president Theodore Roosevelt, who was then the New York Police Commissioner. Although Roosevelt advised him against it, Crane testified on the woman's behalf. Although she was cleared of charges, the police, bent on retaliation, eventually ran Crane out of town.
Some time later, when he was headed to report from Cuba, Crane met the madam of a Jacksonville, Florida brothel, Cora Taylor. The two fell in love and Taylor sold her business to follow Crane on his travels. Taylor was actually already married, but she took Crane's name and was with him at a sanitarium in Germany June 5, 1900, when he passed away at the age of 28 from tuberculosis.
This article was originally written by Jennifer Ferris; it was updated October 26, 2017.