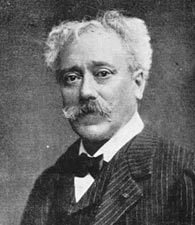 Violinist Pablo Sarasate is a figure of tremendous national and international regard. The distinctly Spanish flavor of his compositions, combined with his masterful technique and elaborate musical arrangements, have earned him a well-deserved place in the classical music hall of fame.
Pablo Sarasate's Early Days
Pablo Martín Melitón de Sarasate y Navascuéz was born in the town of Pamplona in northern Spain on March 10, 1844. His musical talent was evident early on: When he was only 8 years old, he performed his first concert. The performance caught the attention of a wealthy patron who provided the necessary funding for Pablo to continue his studies in Madrid.
At the age of 12, Pablo's parents decided to send him to Paris to study with the renowned teacher Jean Alard at the Paris Conservatory. On the journey there, however, Pablo's mother had a sudden heart attack and died. Spanish authorities in Bayonne later found that Pablo was suffering from cholera. The Spanish consul took pity on him, nursing him through his sickness and ultimately financing his trip to Paris.
Eventually Pablo auditioned for Jean Alard, who recognized his unique talent. He permitted Pablo to enter the competition for the Conservatoire's highest honor, the Premiere Prix. Pablo won the competition with ease.
Sources in this Story
Sarasate's Music
Sarasate's prolific professional career was marked by the performance of his own compositions, including works for piano and violin. As was in fashion at the time, he wrote "concert fantasies" based on Spanish rhythms and themes. Some of his best known include "Carmen Fantasy," which gained him much praise, and "Zigeunerweisen," or "Gypsy Airs."
Sarasate's contemporaries were also highly influenced by him. Iconic pieces such as Camille Saint-Saëns' "Introduction and Rondo Capriccioso," Edouard Lalo's "Symphonie Espagnole" and Max Bruch's "Violin Concerto No. 2" and "Scottish Fantasy" not only bear the clear marks of Sarasate's previous compositions, but were also particularly dedicated to him.
Music critic and playwright George Bernard Shaw praised Sarasate's musical talent by stating that he "left criticism gasping miles behind him."
Sarasate on Amazon.com
The Rest of the Story
Always flawlessly attired, Sarasate had extremely refined manners and conducted himself with elegance and ease. Though he had numerous female admirers, he remained a bachelor throughout his life, and was said to keep a supply of Spanish fans to present to his admirers after his concerts.
Sarasate accumulated considerable wealth throughout his career. Though his main residence was in Biarritz, he remained loyal to his hometown of Pamplona. On September 20, 1908, at the age of 64, Pablo Sarasate died of chronic bronchitis in his Biarritz villa. He left most of his wealth and possessions to the city of Pamplona, where a museum was built in his honor. Pamplona also hosts the "Pablo Sarasate" International Violin Competition each year for people ages 16 to 25. Beyond his material gifts, Sarasate's musical genius became a timeless legacy that earned him Pamplona's title of "Favourite Son."
This article was originally written by Anita Gutierrez-Folch; it was updated January 19, 2017.