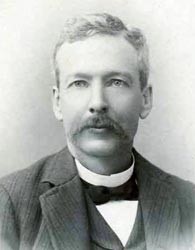 Luther Burbank moved across the country to follow his horticultural dreams. Born on the East Coast, he relocated to California where he could pursue his life's work of developing new breeds of fruits, vegetables and flowers. Today, Burbank's contributions to horticulture and influence on bioengineering are still felt.
Luther Burbank's Early Days
Luther Burbank's modest childhood belies his prolific horticultural career. Born on March 7, 1849, in Lancaster, Massachusetts, he was raised on a farm. Not much more has been written about Burbank's early years, and sources vary on his educational background. According to Encyclopedia Britannica, he "received little more than a high school education," but the National Inventors Hall of Fame reports that his education ended when he finished elementary school.
Burbank was said to have been "profoundly influenced" by Charles Darwin's books as a youngster, particularly "The Variation of Animals and Plants Under Domestication," according to Britannica. When he was just 21 years old, Burbank's horticultural career began to take shape. He bought a 17-acre plot of land close to Lunenberg, Massachusetts, and quickly developed his own breed of potato, the Burbank potato.
Officially named the Russet Burbank potato in 1871, the crop was exported to Ireland in an effort to help the country recover from the potato famine of 1840-60, according to the Lemelson-MIT Program. The Burbank potato later became known as the "Idaho" potato, and remains a "staple of American agriculture."
Sources in this Story
Burbank's Notable Accomplishments
According to the Western Sonoma County Historical Society, Burbank sold the rights to his potato for $150 and used the money for fare to California. He joined three of his brothers who were already living in Santa Rosa, and established a nursery, greenhouse and farm. Burbank promptly began grafting seedling strains "onto fully developed plants," enabling his "rapid assessment of hybrid characteristics."
In addition to his prolific potato, he produced new breeds of tomato, corn, squash, peas, asparagus, and a spineless cactus that is used as cattle feed. His various flower breeds include certain lilies and the Shasta daisy, according to the University of Wisconsin Digital Collections, which also provides full text of "Luther Burbank: his methods and discoveries and their practical application," a 12-volume book derived from Burbank's field notes.
Burbank wrote, "It would be no small achievement to rebuild our fruits and grains and vegetables to fit the finicky stomachs which sedentary occupations are giving us. Yet such a transformation is one which might be easily wrought in a few years through simple selection…the vast range of possibilities in plant improvement which only wait willing hands and active minds to turn them into realization."
Burbank's Work on Amazon.com
The Rest of the Story
Burbank died on April 11, 1926.
The Luther Burbank Home and Gardens in Santa Rosa, Calif., is where Burbank did much of his plant experimentation during his 50-year career. Grounds are open year-round.
Take a virtual tour of the Luther Burbank Home and Gardens in Santa Rosa and Burbank's experimental farm, Gold Ridge Farm, courtesy of the Schools of California Online Resources for Education (SCORE) Social Studies Project.
This article was originally written by Sarah Amandolare; it was updated January 16, 2017.