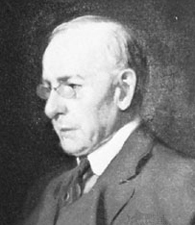 "The skyscraper poet" is how Time magazine referred to Louis Sullivan in 1951. The description holds true today, as Sullivan is widely recognized as one of America's great architects. Sullivan's works were a driving force within the American architectural landscape. His most significant contribution to architecture is visible in any city skyline—the invention of the high-rise skyscraper.
Louis Sullivan's Early Days
Louis Henri (or Henry) Sullivan was born on September 3, 1856, in Boston, Massachusetts. He enrolled in the Massachusetts Institute of Technology at the age of 16 and spent a year there studying architecture. Then he moved to Philadelphia and began work with architect Frank Furness.
Sources in this Story
Sullivan's Architecture
Let go by Furness in 1873, Sullivan moved to Chicago to partake in the building boom that followed the Great Chicago Fire of 1871. From there he went on to work for William Le Baron Jenney, a pioneer of steel frame construction, and, less than a year later, moved to Paris to study at the Ecole des Beaux-Arts.
Back in Chicago, Sullivan began working for Dankmar Adler, with whom he would design nearly 200 buildings over a 14-year period. From 1879 to 1886, they performed eight renovations, constructed one new theatre and designed their greatest structure as a duo, the Chicago Auditorium Building.
"Adler and Sullivan were highly regarded not only for their robustly modern and iconoclastic architecture—which illustrated Sullivan's dictum 'form follows function'—but for Sullivan's complex and organic ornament," writes The Art Institute of Chicago.
Sullivan's famed "form follows function" maxim "should not lead one to conclude that Sullivan believed that a design should be a mechanistic visual statement of utility," explains architectural historian H.F. Koeper in Encyclopedia Britannica. "Rather, he believed that architecture must evolve from and express the environment in addition to expressing its particular function and its structural basis."
In 1889, their firm began to concentrate on taller office buildings, and Sullivan conceptualized what would become the modern-day skyscraper. "What is the chief characteristic of the tall office building?" Sullivan wrote in Lippincott's Magazine in March 1896. "It must be every inch a proud and soaring thing, rising in sheer exultation that from bottom to top it is a unit without a single dissenting line."
Sullivan went on to design many skyscrapers: the Stock Exchange, the Schiller Theater, the Auditorium, the Wainwright in St. Louis, Missouri, and the Guaranty buildings in Buffalo, New York. Splitting with Adler in 1895, Sullivan designed three large-scale edifices in New York City, and ended his career in the Midwest designing small banks, shops and churches.
The Rest of the Story
Louis Sullivan died on April 14, 1924, in Chicago, not long after completing "The Autobiography of an Idea" and "A System of Architectural Ornament According With a Philosophy of Man's Powers." He was buried in Chicago's Graceland Cemetery, near two tombs he designed.
Many considered Sullivan to be the first architectural modernist and argued that his works should be preserved as historic landmarks. Others felt differently. His style fell into disfavor and a number of his buildings were demolished during the urban renewal programs of the 1960s and '70s.
It wasn't until Richard Nickel, a graduate of the Institute of Design in Chicago, began to publicly protest the demolitions, that Sullivan's works were spared, and in some instances, renovated. Nickel died as a result of his efforts when a stairwell crushed him as he collected items for preservation in a condemned building.