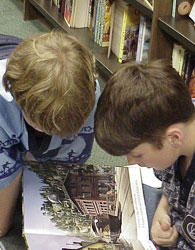 Nationwide, more boys than girls seem to be struggling with reading. Here are five tips from teachers, librarians, authors and literacy strategists to encourage boys to read.
"The Boy Problem"
Boys aren't reading as much or as well as girls. "[B]oys have fallen behind in reading in every single state," Nicholas D. Kristof wrote for The New York Times in 2010, citing a report from the Center on Education Policy.
In elementary schools, 72 percent of boys are considered "proficient" readers, compared to 79 percent of girls. "Similar gaps were found in middle school and high school," according to Kristof. This is all part of a larger problem educators are calling "the boy problem."
Strategies to Get Boys Reading
"We know boys are having trouble reading. Parents know it. Teachers know it. We've been testing kids for 25 years and finding that boys are doing worse than girls as a group, but nobody's done anything about it. And it's so frustrating," says children's author and National Ambassador of Young People's Literature Jon Scieszka, who recommends expanding your definition of reading to include humor, comics, fantasy science fiction and more. Scieszka is also founder of the website Guys Read, which aims to help boys become "self-motivated, lifelong readers."
Another motivational tool is to use reading logs, Kristen Bevilacqua, a literacy volunteer in South Africa, suggests. The log's purpose is as a "milestone tracker" more than a diary, which might be considered "girly." The log is a place for boys to record the number of genres or chapter books they have read. "Since reading is an activity that is often too abstract for many boys, the concrete proof of their success will be beneficial to their reading confidence and independence," according to Bevilacqua.
And definitely enlist the help of male role models. The guide "Me Read? No Way!" highlights a mentor program at St. Thomas University in New Brunswick, Canada, where men in their 20s developed "informal educational relationships" with male students, who they met weekly for two years.
"Male-teacher librarians need to read books—lots of books. Always have a book on hand. Carry it. Know a wide selection of books that boys will read," Joel Shoemaker is quoted as saying in the guide, published by the Ontario Ministry of Education.
Even younger boys can model good reading habits for their peers. Bevilacqua suggests creating book recommendation boards in school, where boys write a summary of the book of the month or week and explain why they liked it. "A book recommended by a friend, needs no other stamp of approval for boys to want to read it too," Bevilacqua wrote.
More Books for Boys
To find books suited to younger boys, read Keith Schoch's blog post, "
Ten CC's of Books for Boys
." Categories include "Curious Critters," "Caped Crusaders" and "Corporeal Crud."
 Sources in this Story:
This article was originally written by Shannon Firth; it was updated on June 23, 2017.