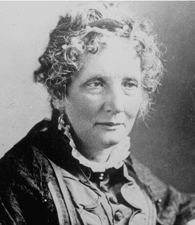 Harriet Beecher Stowe's most memorable contribution to society was her book, "Uncle Tom's Cabin." The responses to Stowe's work were so powerfully divisive that Abraham Lincoln upon meeting her said, "So you're the little woman who wrote the book that started this great war."
"The bitterest tears shed over graves are for words left unsaid and deeds left undone." -Harriet Beecher Stowe
Harriet Beecher Stowe's Early Days
Harriet Beecher Stowe was born on June 14, 1811, into a large, well-respected family in Litchfield, Connecticut. Her father Lyman Beecher was a minister, The Literature Network states, and her mother Roxanna Foote Beecher died when Harriet was still very young.
When Harriet was six her father remarried a woman named Harriet Porter whom the family quickly embraced. Harriet's siblings, Henry, Catherine and half-sister Isabella would later become some of the most influential abolitionists, educators and suffragists of their time, writes the Harriet Beecher Stowe Center.
After moving to Ohio, Stowe joined literary circles and taught at her sister's school. In 1836, Stowe married clergyman, scholar and widower, Calvin Ellis Stowe, with whom she had seven children; only three survived their parents. She and her husband once helped hide one of the family's servants, who was being chased from Kentucky by her former owner. The family later moved to Maine where Stowe began writing "Uncle Tom's Cabin."
Sources in this Story
Stowe's Notable Works
Stowe co-authored a geography book with her sister and then published her first book on her own, "The Mayflower." Stowe's growing aversion to The Fugitive Slave Act motivated her to write "Uncle Tom's Cabin," or "Life among the Lowly." It was first published as a serial for the "National Era" in 1851, and then re-published as a book in two volumes.
In one scene, she called on readers to imagine being a slave and having your child taken away: "If it were your Harry, mother, or your Willie, that were going to be torn from you by a brutal trader, tomorrow morning,—if you had seen the man, and heard that the papers were signed and delivered, and you had only from twelve o'clock till morning to make good your escape,—how fast could you walk?"
In addition to "Uncle Tom's Cabin," Stowe also authored several novels, including a second novel about slavery entitled "Dred, A Tale of the Great Dismal Swamp."
Unfortunately for Stowe, in the 1850s several playwrights including George L. Aiken developed musicals and later films that obscured or purposefully misrepresented her anti-slavery message. Known as "Tom shows," many of the shows marginalized Uncle Tom treating him as a minstrel rather than a hero, explains The Lost Museum.
Songs were written about the book and for the musicals. Ironically, the popular confederate song "Dixie" was even used in some productions. Recordings as well as lyrics can be found at the Web site Uncle Tom's Cabin and American Culture.
The Woman and Her Work
The Rest of the Story
During her life, Stowe befriended a host of abolitionists and authors, including Frederick Douglass and Mark Twain, her neighbor. She corresponded with Nathaniel Hawthorne, Charles Dickens and Henry Wadsworth Longfellow. She died on July 1, 1896, at her home in Connecticut.
This article was originally written by Shannon Firth; it was updated May 19, 2017.