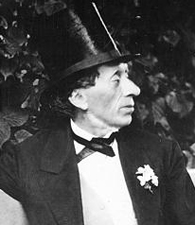 Fairy tales may seem to have existed since the beginning of storytelling, but Hans Christian Andersen is the acknowledged father of the modern form. His achievements are still celebrated by the literary world today, and by children clamoring to read his stories.
Early Days
Hans Christian Andersen was born in Odense, Denmark, on April 2, 1805. His life was one of poverty, but Andersen's parents, a shoemaker and a washerwoman, did what they could to make him happy. His father took great joy in reading books to his son since he never obtained much education during his own childhood. Anderson's highly superstitious mother inspired his love of folklore.
When Anderson was 11 years old his father died. At the age of 14 he moved to Copenhagen to seek employment as an actor, dancer or singer, but he struggled in his early career.
To help him make something of himself, patrons raised money to send Andersen to grammar school, and then he earned his way into a university.
Sources in this Story
Notable Accomplishments
Andersen began writing. In 1829, he created "his first important literary work," "A Walk from Holmen's Canal to the East Point of the Island of Amager in the years 1828 and 1829." The story was immediately popular.
Starting in 1835, Andersen produced the work that would cement his fame. His breakthrough novel, "The Improvisatore" was published that year, as were his first fairy tales. He also gained recognition internationally as a novelist and spent several years of his life traveling outside Denmark.
His fairy tales were different for both their style and content. Andersen employed idioms and spoken language in his stories, departing from tradition. While he kept a child's point of view in mind when writing, he wasn't afraid to introduce unhappy themes into his work.
Altogether Andersen produced 156 fairy tales, most of which were published in booklets released each year around Christmas. The majority of these stories, which include such works as "The Little Mermaid," "The Ugly Duckling," "Little Claus and Big Claus" and "The Tinder Box," were not rewritten versions of old tales; rather, they were fully original creations of Andersen's vivid imagination.
The Man and His Work
The Rest of the Story
Hans Christian Andersen died in August 1875, having never married, even though he "fell in love three times at least, finally, in his middle years, with Jenny Lind."
Andersen's stories continue to inspire numerous works in literature and other media. Since 1967, International Children's Book Day has been observed on or near Andersen's birthday as a means of instilling a passion for reading in children.
Every two years the International Board on Books for Young People celebrates the achievements of a "living author and illustrator whose complete works have made a lasting contribution to children's literature" by granting the Hans Christian Andersen Award. The honor is the highest recognition a children's book author and illustrator may earn internationally. Denmark's Queen Margrethe II is the Patron of the Andersen Awards.
In 2005, Denmark celebrated the 200th anniversary of Andersen's birth with an eight-month-long celebration of the author's life and work. Interestingly, Andersen had once worried that he would be forgotten, despite all that he achieved, but attendees at this celebration proved otherwise by celebrating his life and achievements with concerts, ballets, musicals and parades. The crowd included Queen Margrethe II and her family.