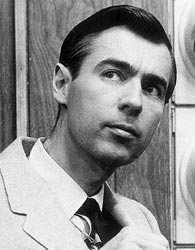 For more than 30 years Fred Rogers welcomed children and their parents into a realm of imagination on his show, "Mister Rogers' Neighborhood." Through his world of make-believe and real life experience, Rogers aimed to teach children self-esteem, how to understand their feelings and appreciate the world around them.
Fred Rogers' Early Days
Fred McFeely Rogers was born on March 20, 1928, in Latrobe, Pennsylvania. He received a bachelor's degree in music composition from Rollins College in 1951, and worked in New York as an assistant producer and later floor director for NBC. He then moved to Pittsburgh to develop the program schedule for the nation's first community-sponsored educational television station, WQED Pittsburgh. It was here that he produced a show called "The Children's Corner" which gave birth to many of the characters that would later be on "Mister Rogers' Neighborhood."
In 1963 Rogers was ordained as a Presbyterian minister. That same year he first appeared as a television host for a children's show in Canada called "Mister Rogers."
Mr. Rogers' Notable Accomplishments
In 1968, after returning to Pittsburgh, Rogers' show "Mister Rogers' Neighborhood" was broadcast on the National Education Television network for the first time. The show used Rogers' on-set neighbors and the puppets and characters in his Neighborhood of Make-Believe to help children understand their feelings, learn about the world around them, deal with difficult issues and learn that they are special, just the way they are. When the show ended in 2000, Rogers had filmed more than 1,000 episodes, and the show had won numerous Emmys and other prestigious awards.
Sources in this Story
The Rest of the Story
After a battle with stomach cancer, Fred Rogers died on February 27, 2003, a few weeks before what would have been his 75th birthday.
During his lifetime, Rogers received many awards and honors for his work in television, some of which include a Lifetime Achievement award from the Emmys, the title of "Living Legend" by the Library of Congress in 2000, a place in the Television Hall of Fame in 1999 and a star on the Hollywood Walk of Fame. His trademark sweater became part of the Smithsonian's permanent collection in 1984.
Prestigious Universities such as Yale have contributed to Rogers' more than 40 honorary degrees. He composed more than 200 songs and wrote dozens of children's books. Rogers was known as a man very true to his character on TV; he was soft spoken, kind and caring toward children.
In a quote from his book, "The World According to Mister Rogers," which was published after his death in 2003, he says, "More and more I've come to understand that listening is one of the most important things we can do for one another. Whether the other is an adult or a child, our engagement in listening to who that person is can often be our greatest gift. Whether that person is speaking or playing or dancing, building or singing or painting, if we care, we can listen."
This article was originally written by Haley A. Lovett; it was updated February 1, 2017.