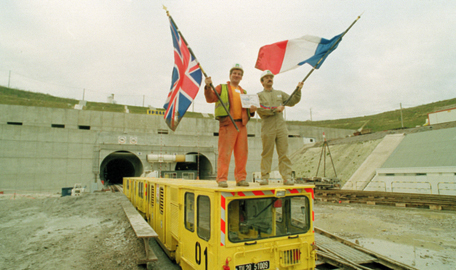 On Dec. 1, 1990, British and French construction workers joined the two halves of the Eurotunnel, physically linking Britain and France for the first time since the end of the ice age.
At 11:11 a.m., workers Robert Graham Fagg of England and Philippe Cozette of France drilled through the final pieces of rock and met at the center of the Eurotunnel. About 100 of the project's 10,000 workers were on hand to celebrate with champagne, the only time alcohol had been officially allowed at the work site 130 feet underwater.
For the first time since the ice age, Britain was joined with the European Continent. The dream of connecting Britain and France through bridges or tunnels dates back to the 18th century and Napoleon Bonaparte himself had been convinced that a tunnel could be built.
There were many obstacles to overcome, both logistically and mentally. The British, with their traditionally insular attitude, were reluctant to join Europe. "More important than the physical separation of Britain from the Continent was the psychological separation," said John Neerhout Jr., the project's chief executive. "For centuries, the English regarded them selves as distinct from and superior to their neighbors 'across the water.'"
Attitudes began to change in Britain in the 1950s, but it took until 1981, when the British Prime Minister Margaret Thatcher and her French counterpart Francois Mitterrand came to office, for real progress to begin. Several plans for bridges and tunnels involving cars and trainswere proposed, as Thatcher and Mitterrand debated the options.
To Mrs. Thatcher, some sort of underground motorway was the only solution. "I shall be the first to drive through the tunnel at the wheel of my car," she said, with characteristic determination. But to the French, who had one of the world's best-developed railroad networks, the train was the only way to go. Thatcher conceded, and the plan for a rail tunnel was announced on Jan. 20, 1986.
Work on the project, which was funded privately, began in 1987. There were many problems with equipment and measurements, and its cost soon exceeded estimates. It was eventually completed in 1994, opening on May 6, a year late and at more than double the original budget.
The
official Web site of the Eurotunnel
allows you to find schedules and books trips through the tunnel. It also includes financial information for shareholders and investors.