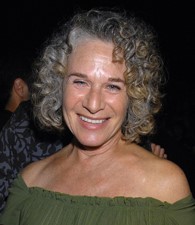 Carole King started playing the piano at age 4 and hasn't stopped since. Out of college in the 1960s King was writing some of the biggest hit singles of the generation. A rich solo career followed, including a Broadway show about her life.
Carole King's Early Life
Carole King was born Carole Klein on February 9, 1942 in Brooklyn, New York. Four years later she discovered her love of piano.
King fostered her musical talent throughout her childhood, starting her own band, the Co-sines, in high school: by that time she was an accomplished songwriter. During high school, King sang back up and made a few independent recordings, although none was picked up.
King's musical career began to take hold during her years as a student at Queen's College in New York. While at college she met and collaborated with Garry Goffin, whom she would later marry.
In 1960 King recorded a single "Oh! Neil!" a response to her friend Neil's song, "Oh Carole!" Although the song was not a hit, it garnered the attention of Don Kirshner, who signed King and Goffin to his label, Aldon Music.
The Aldon arrangement allowed King to begin the first part of her career, which consisted primarily of composing chart toppers for pop groups like The Shirelles.
Sources in this Story
Notable Accomplishments
Throughout the 60s, King and Goffin wrote songs for Aldon, including the hit, "Will You Love Me Tomorrow?" sung by The Shirelles and the Drifters' "Up on the Roof." The two were a well-matched team: King composed the music, while Goffin wrote the lyrics.
All told, the pair wrote more than 100 songs, including, "Chains," sung by the Cookies (later covered by the Beatles) and "I'm Into Something Good," performed by Herman's Hermits. In 1962 the pair wrote, arranged, conducted, and produced the song "The Loco-Motion" for their 17-year-old babysitter: the song went to #1 that summer.
In the mid-60s, Goffin co-founded the short-lived label Tomorrow Records, which featured the band Myddle Class. Not long after, King and Goffin divorced and King married Charles Larkey, basist for Myddle Class. The two moved to California and formed The City, a trio that included Danny Kotchmar. Neither the band nor the marriage would last.
At that time, King was not a confident performer, and The City did not tour to promote their first LP, "Everything's Been Said." The result was a commercial failure, although other bands popularized some of the albums tracks, including James Taylor who sang, "You've Got a Friend."
Taylor and King became close friends and he encouraged her to pursue a career as a soloist. Although her first album "Writer," (1970) was not successful, her 1971 album "Tapestry" was on the charts for six years and included the hits, "So Far Away," "It's Too Late," and "I Feel the Earth Move."
Other albums followed, including "Rhymes & Reasons," and "Thoroughbred," which King collaborated on with Goffin, Taylor, David Crosby, and Graham Nash. In 1977 she toured to promote "Simple Things."
That year, King married her frequent songwriting partner Rick Evers, who died a year later after a heroin overdose.
King's career on the fast track wound down in 1980 after she released "Pearls," which featured collaborations with Goffin. After that, King moved to Idaho to promote environmental causes and make music on her own terms. She has since released "Speeding Time," "City Streets" (which featured Eric Clapton) and "Love Makes the World," which was released on her own label, Rockingale.
King has won a total of four Grammy awards and was inducted into both the Songwriters Hall of Fame and the Rock and Roll Hall of Fame.
The Woman and Her Work
The Rest of the Story
King has also become a dedicated conservationist and explains her passion in a video interview on the PBS show "Now," which shows her at home in the mountains.
In 2012, King released a memoir, "Natural Woman," and in 2014 a show about her life opened on Broadway.
King invites fans to get a closer look at her life and work on her web site, which features a personalized scrapbook containing photos of memorable tours and events throughout her career.
This story was originally written by Isabel Cowles; it was updated December 14, 2016.